LITTLE BLACK BOOK
OF FUN PRESENTATION IDEAS
Kick the dull out of your presentations with 21 thrilling, daring and downright game-changing tricks!People dread sitting through slide presentations, but love inspiring speeches, motivating talk shows and great webinars.
Fill out the form on the right to download our free eBook today and blow the roof off your next presentation!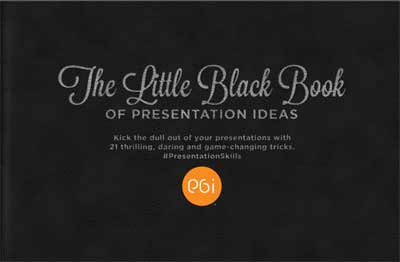 7 Tips for creating beautiful (or scary or awesome) slide presentations.
7 great ways to incorporate new tech, tools and toys to wow your audience and leave them begging for more.
7 mind-blowing techniques to give your presentation the IT factor and stand out from the crowd.